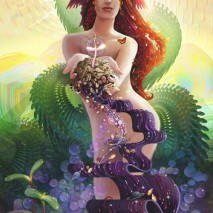 Evolver Bay Area welcomes you to a ceiling-lifting panel discussion on visionary art. We'll be discussing what visionary art is, and how it relates to consciousness evolution. We hope to dive deep into the subject matter this beautiful, rich, and activating art represents. Artists will describe their process, and we'll look at curated slideshows from contemporary art to ancient indigenous traditions. We'll also be discussing how festivals are group dynamic expressions of visionary art, and how we can share these activating images, music, and performances to spread love-based cultural evolution. Audience Q&A follows the panel.
:::
Tuesday April 17th 2012, 7pm-10pm
:::
Panelists:
Adam Apollo, Director, Visionary Arts Foundation
http://visionaryartsfoundation.org & http://adamapollo.info
Forest Stearns, Art Director, deviantART
http://www.deviantart.com/
Ehren Taytakura, Progenitor of Transformational Culture, SolPurpose
http://solpurpose.com/
Ayşe Gürsöz, Videographer and Editor, The Mending News
http://www.themendingnews.com/
Ka Kathryn June, Director, Visionary Arts Foundation. Painter, Dancer, Sacred Regalia Designer
http://www.serpentfeathers.com/
Ken Adams, Filmmaker, The Terence McKenna Experience
http://terence-mckenna-movie.tumblr.com/ & http://4earth.tumblr.com/
Ray Griswold, Artist, Designer, Engineer
http://raygris.com/
Michael Dewey, Software Engineer, deviantART Muro
http://muro.deviantart.com/
Tuesday April 17th, 7pm-10pm
1720 Market St, San Francisco, CA 94102
Suggested Donation: $10
event image by Jessica Perlstein – http://dreamstreamart.com/
"holding space for the proliferation of visionary culture ~ in a world searching for vibrance ~ awakening to new potentials of the creative expression"

– Ehren Taytakura
::::::::::::::::::::::::::::::::::::::::::::::::::::::::::::::::::::::::::::::::
Evolver Salon happens every third Tuesday at The Happiness Institute!
Stay in the loop with Evolver Bay Area:
facebook – http://www.facebook.com/pages/Evolver-SF-Bay-Area/255522447841114
newsletter – email evolversf@gmail.com
evolver.net – http://www.evolver.net/group/evolver_san_francisco