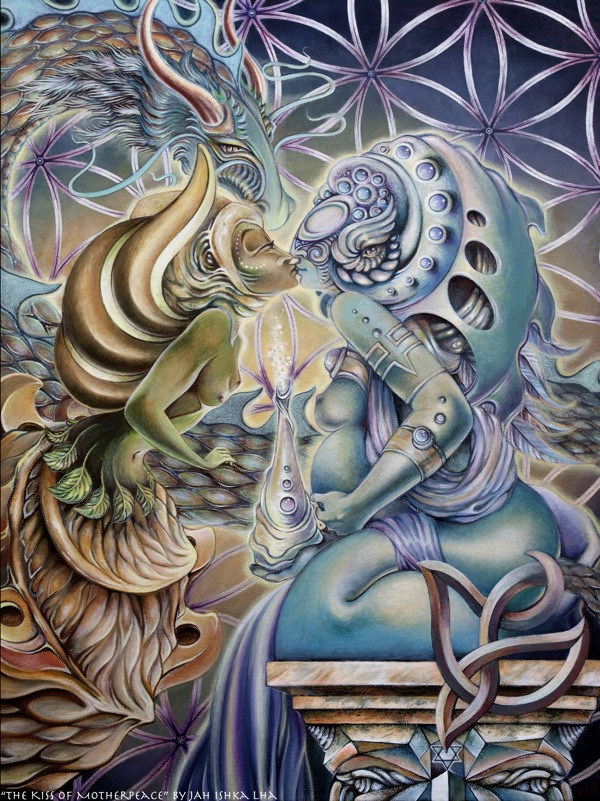 Ishka was born in 1982, and grew up on a ranch atop the rolling hills of northern California. She started drawing as soon as she could pick up a pencil, and received significant artistic instruction and encouragement from her mother and father. She earned a Professional B.A. in Architecture, but promptly set her course for a career as an artist upon graduation. Since then, Ishka has travelled across the U.S. and abroad, expanding her worldview, and using every opportunity available to absorb spiritual guidance and inspiration for her creations. Her work is primarily featured in various private collections, galleries, gift shops, cafés, and sacred art and music festivals along the west coast.
"My work is a reflection of how we experience life with an attitude of thanks, grace, and play. When we do this, reality is a lot more like a dream. Everything takes on an air of fluidity, and there is more space in our minds to experience moments like water in a river, continuing onward without resistance to what is. This does not mean that we give up the power of choice, or that we "give in" to whatever comes our way—to emulate the river is to understand that the nature of the river is to keep on. Water does not hold onto the riverbank, it simply flows."
Ishka's art explores and celebrates the natural radiance inherent in all dimensions of life through the use of neo-traditional iconography, archetypes and symbols, sacred geometry, dreams, ritual, legend, and prophecy. She is part of a growing movement in the art world that is dedicated to the enlightenment of all beings. She acknowledges her responsibility as an artist to encourage the evolution of our global community and beyond, and treats her creative process as a spiritual practice.