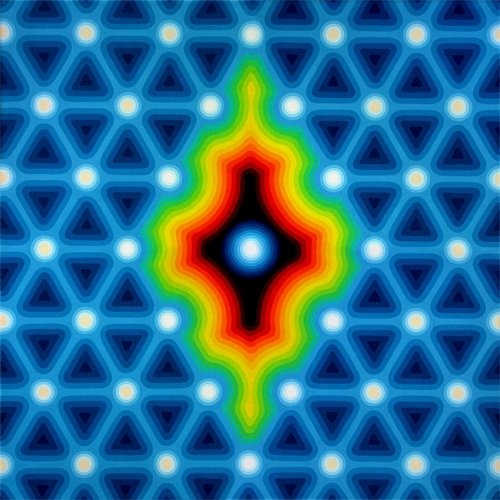 Originally from Canada, Vibrata has been living in California since 1999. As well as appearing regularly in galleries and alternative art venues in the Bay Area, Vibrata's intermedia paintings, installations and digital work have been shown in Los Angeles, Seattle, New York, Chicago and as far away as Turkey, Portugal and Japan.
Vibrata was given her name during a meditation in 1998. Along with the name she was shown a vision of waves of energy, undulating and expanding infinitely in all directions as a continuum. It was the triggering event for a profound change in her work.
Her images include elements of symmetry and rhythmic patterning, geometry and the use of beguiling perceptual distortions. She is an intermedia artist, with digital media at the core.
"Profound metaphors and dynamic images are triggered within me when I read the writings of cosmologists and theoretical physicists. The idea that we are nothing more or less than an interplay of energetic potentialities is, to me, a palpable truth. Our brains are pattern-recognition machines, organs that have evolved to look for and interpret patterns in our perceptions. It's how we learn and how we create meaning. This is the essential dialogue between what we believe ourselves to be and what we believe to be outside of ourselves."
She is an eight-time veteran of the Burning Man festival, held every year in Nevada, introducing her own art installation there called "the Wind Oracle" in 2003 and contributing to the "Connexus Cathedral" and "Entheon Village" in 2006. As a lecturer and presenter, Vibrata was featured at the Palace of Fine Arts in San Francisco for the "Mind States" conference, and at CoSM gallery in NYC in 2005.